If you keep tabs on the beauty world, even casually, you know that masks are totally in right now. From sheet masks to peel-offs, giving our faces some time to refresh — not to mention giving ourselves a reason to actually sit still for 20 minutes — is a big part of treating our skin.
There are masks for reducing redness, exfoliating for even tone, moisturizing dryness, and pulling out all of that gross stuff that we see on Dr. Pimple Popper's YouTube channel. And since masking is a gender-neutral activity, it's always fun to get our boyfriends/girlfriends in on the action, because let's face it: We all want better skin.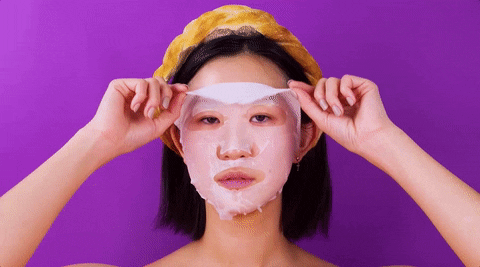 I got so involved with this masking trend that I, in true form, took it to the absolute next level. When Instagrammers starting "multi-masking," I was all in.
The concept behind this internet-bred beauty hack is that instead of slathering one mask all over our face, we should target the different portions of our face with different masks — a little redness reducer on a new breakout, a little brightener under our eyes, an overall exfoliating mask in the T-zone, etc. The idea is that this method tackles our skin's many problems — while giving us time to catch up on the latest episode of Westworld. 
This obsession with masking got me thinking: Is there such a thing as a "hair masks?" And, if so, are there hair masks specifically for natural hair like mine? I know that deep conditioners exist, but what about something that I can make myself, for a fraction of the cost (and maybe without all of those strange ingredients tend t0 be toxic to my curl pattern)? 
A little internet search for "DIY natural hair masks" brought me to a long list of semi-relevant recipes, and, because I know that not everyone has the time to try them out (nor would everyone want to because, well, a garlic hair mask just sounds smelly), I'm doing it for you. You can thank me later.
But honestly, I really did it for purely selfish reasons, because going back and forth between straight, curly, and whatever you call the style that comes with the constant lack of moisture that surrounds me in this dry-ass climate has just about given me whiplash. 
Below, I detail the hairy situation I got myself into, when I experimented with 5 DIY hair masks, with varying degrees of success.
The Supplies
Mask One: Root To Tip Growth
Courtesy of Author for LittleThings
Mask Two: Relieves Dryness & Flakes
Courtesy of Author for LittleThings
Courtesy of Author for LittleThings
Mask Three: Overnight Length
Courtesy of Author for LittleThings
Courtesy of Author for LittleThings
Courtesy of Author for LittleThings
Mask Four: Shine Bright Like A Diamond
Courtesy of Author for LittleThings
Courtesy of Author for LittleThings
Mask Five: Milk & Honey (The Mask, Not The Book)
Courtesy of Author for LittleThings
Courtesy of Author for LittleThings
Courtesy of Author for LittleThings
The Final Verdict