Brianna Ludlum and her boyfriend Saulo have been together for well over a year, so naturally, they were supposed to go to prom together.
However, Saulo couldn't make it because he recently made the big move to Amsterdam. And while most of us would've sat at home eating cookie dough ice cream, Brianna decided to make up for her boyfriend missing prom by photobombing her friends' pictures while wearing a sloth costume. As you do.
This Girl Dressed As A Sloth And Photobombed Her Friends' Prom Pictures https://t.co/tA5qcIznRU pic.twitter.com/XRR9NO0B5Z

— SmilyTube.com (@smilytube) May 12, 2018
See anything weird in the background of those photos?
"My sister's boyfriend in Amsterdam actually got the sloth costume for her as a gift," Brianna's brother Cameron told UNILAD. "He said that she's really lazy but at the same time knows a lot of facts about sloths. Plus she thinks they're cute. She went to his senior prom and considered it her own last year so this year she had no problem with just having a good time and participating in prom pictures. Just as a sloth. She could have been in a funk but she wasn't, and that's why I love my little sis."
Brianna didn't expect or intend to go viral. (And so quickly! Aren't sloths known for being slow?)
"The fact that the pictures are gaining popularity on Twitter is just really funny to me because it was just a casual thing I did to goof off with my friends, I didn't think other people would get such a kick out of it," she explained to UNILAD.
Obviously, people fell head-over-heels for Brianna's photos. And who wouldn't? Girlfriend is a comedic genius! It's also super sweet that even with her boyfriend half a world away, she still found a way to incorporate their special bond into the big day.
Girl Dresses As A Sloth And Photobombs Everyone's Prom Photos https://t.co/vdls6gLkBo pic.twitter.com/hk0gX9X2jY

— theSpontany (@thespontany) May 11, 2018
May we suggest Brianna be voted prom queen? Because Brianna should be voted prom queen. #SlothGirlForPromQueen2k18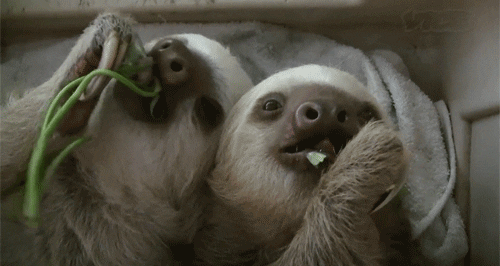 One thing's for sure: This girl's got our vote!